ΚΡΙΤΙΚΕΣ
ΚΡΙΤΙΚΕΣ BOOKING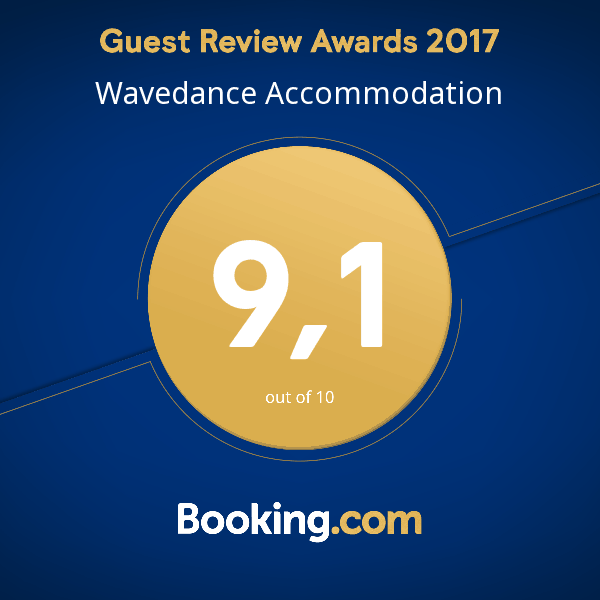 Όλες οι κριτικές από τη στιγμή που είναι καλοπροαίρετες είναι καλοδεχούμενες και μας βοηθούν ώστε να βελτιώσουμε ακόμα περισσότερο την ποιότητα των υπηρεσιών μας.Παρακάτω μπορείτε να διαβάσετε κριτικές για τα Wavedance Accommodation για διαμονές μικρής αλλά και μεγάλης διάρκειας καθώς επίσης και για διαμονές όχι μόνο τους καλοκαιρινούς μήνες αλλά καθόλη τη διάρκεια του χρόνου.Ευχαριστούμε για το χρόνο που αφιερώνετε γράφοντας μια κριτική και να είστε σίγουροι ότι τα  Wavedance Accommodation θα σας το ανταποδώσουν με τον καλύτερο τρόπο.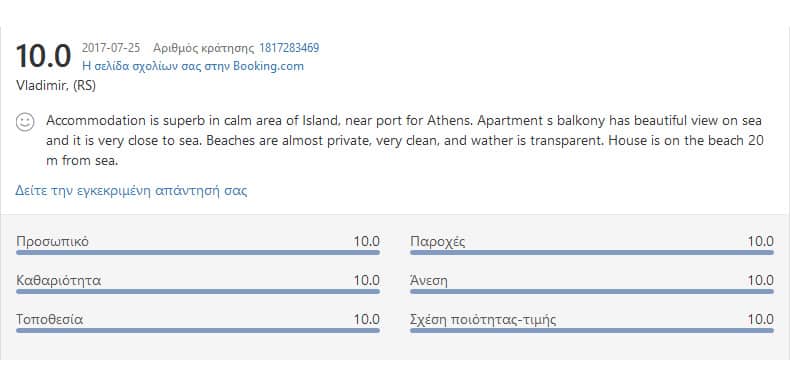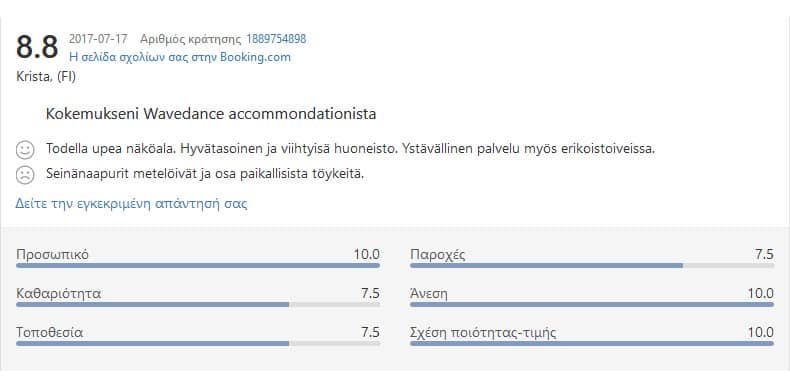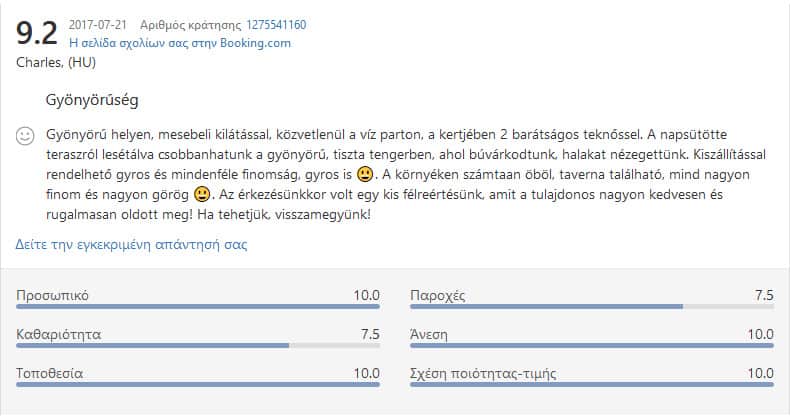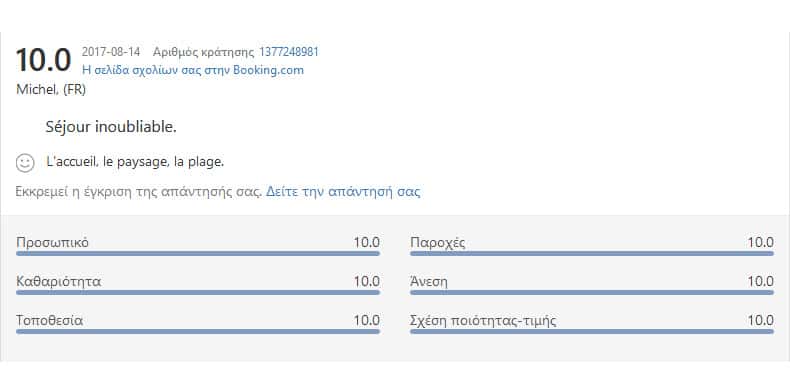 ---
ΚΡΙΤΙΚΕΣ AIRBNB
---
We had an amazing time here. This place is paradise. Two quiet, virtually private beaches within a minute walking, amazing sunsets, pristine water, and a completely relaxing atmosphere. Hard to believe that you are hardly off the mainland. We would love to come back here!
---
We stayed at Evaggelos for 2 months from November to January 2017, it started to get a bit cold in January but we absolutely loved the place, the views are breathtaking and is such a great spot, for us it was a perfect distance from town (around 6km) because we where in a relaxing holiday we just walked in but when all my family arrived for the holiday season we rented a car and it was just a 10 min drive from the ferry station in Salamina (very recommendable because we just paid 24 euros per day with hertz) Evaggelos and his father where absolutely the best hosts they where so attentive and just a message away to attend our every need, they arrange for us to be close to my family because initially we where in another area they upgraded us so we could be all together and because we were there in winter the even provided electric blankets and they where heaven! The place was so amazing that my boyfriend decided to propose (ahead of time) in the lovely courtyard because it was just the perfect spot, I can't even imagine how amazing it would be to be there on summer! We got 2 warm days and were able to get in the water but even if we haven't it was so worth it! Million dollar views! Such a great value! We had an unfforgetable experience we came to the conclusion that Salamina was a great choice, close enough to Athens to have a day out in the city but secluded enough to really feel that you are in a greek island. Our personal tip would be to hire bikes because the path to town is beautiful and in a bike would only take you around 20 min. We absolutely recommend everything about this place. It will be the best desition you make in a while. Paola and Mike
 
The house is directly on the sea in acalm and quit area. The sea is accessible from the garden, but more for adults. In the immediate neighbourhood (50 meters) are 2 nice little beaches suitable for kids. Nice garden, nice atmosfere. Outside of Salamina, so really quiet. The bay is on the south side of Salamina and is protected against winds by mountains. The seawater is very clear. Salamina offers dining possibilities in all ranges. Supermarkets are present. Athens is close, by ferry 15 min. By car from the house to Acropolis is about 40-50 minutes , ferry included. Very suitable for families with (little) children that want to explore Athens and surroundings.
Nice, quiet place and close to the capital. We were warmly welcomed. Almost all the basic needs were available. Moreover, it has a really nice view over the sea.
---
We stayed at the house for over a month, we had a wonderful time. the room we received was well equipped for our stay, clean and very pleasant, at night the sound of the calm waves helped us fall asleep and in the morning the amazing view and beautiful bright blue water were a dream come true. Before i get to say something about our hosts i think its important to understand the house is situated right on the sea from the entrance to our room there are about 7 stairs till your feet meet the amazingly calm sea. We came over with our 2 young girls 5+3 and they loved it by the time we left they became excellent swimmers, the house has serval main areas for them (and us) to to play and relax, some are shaded with green lawn and pine trees, where you can sit back and and enjoy the breeze and beautiful views, another area has a swing and reclining chairs perfect for the watching the sky change its colors during sunset. We felt extremely safe at all time. On each side of the house there is a small public beach (about a 3 minute walk in any direction) the public beaches are small and a lot of fun and are never to crowded (we stayed during August). So as you can read the house and the physical aspect of or vacation were wonderfull, but there is another very important element for my recommendation and that is the human side. Evegaleos (our host) was great, communication with him was easy, honest and straight forward. he helped us way beyond what you would expect, We enjoyed talking to him on a personal level and i am sure you will too. His parents live on the top floor and his father Tasus is simply amazing, he dosent speak any english but he is probably one of the kindest people you are going to meet in your life, and kindness needs no language, it is simply understood by anyone. "Tasus" will help you with anything . it is best if you come with a car since the island has other areas worth exploring. but we stayed for a full month using public transportation, from time to time we would jump to Athens ( about an hour and a half trip on public transport) shopping can be done at the city, ( a 20 minute bus ride) so go have a great time . Amir & Adi
---
He was very friendly and the location was amazing with a very nice view..
Beautiful place, exactly what I expected. It is wright on the see, very secluded, very quiet, great see, great weather, breeze, owner very amicable and helpful. Not for little children. There is no nice sandy beach (two small and crowded) You have to take bus (10 -15min) to get to shops and restaurants I enjoyed it
Das war die zweite Wohnung die wir buchten. Sie war sehr stilvoll eingerichtet und wir ein paar optimal. Super schön war, dass man direkt von der Türn aus auf das Meer schauen kann.Er war sehr bemüht uns zu den Appartements zuführen. Man sollte sich im Vorfeld auf (SENSITIVE CONTENTS HIDDEN) die genaue Strasse anschauen. Auch wenn die Insel klein ist, leitet das Navigation einen zum falschen Ort. Der Vermieter war bis spät erreichbar und kann sehr gut Englisch. Mann sollte Handtücher und Bettwäsche mitbringen. Wir haben uns sehr wohl und familiär dort gefühlt.
We loved our stay here. Evangelos and his family are all very kind and helpful! Town is an hour walk or the bus comes around the corner, they showed us where. It's only a euro and takes 15 mins. You can get a mobile internet sim from town at the WIND store (way cheaper than Vodafone) for 18 euros you get 6gb and some credit. The place is small but beautiful - would definitely recommend and stay again.
We were in contact with with Evaggelos already two weeks in advance of our arrival. He explained each possibility of how to get from the airport to the apartment. Unfortunately our flight got cancelled and we therefore arrived one day late, but that wasn't a problem at all. Evaggelos made sure we knew which transportation to take (we communicated via whats app) and His dad even picked us up at the bus stop! (cheapest way from the airport to the apartment: Metro to Piräus, Bus to Perama, Ferry to Salamina (Paloukia) and then with the Bus (St. Nicolas) to the apartment (Bus stop No 8), A great service. Throughout our stay Evaggelos made sure we had everything we need (e.g fresh towels and bed sheets) and was always reachable in case of any questions. The apartment is really nice and cozy. The sea is right at then end of the yard (with two tortoises) and there a two nice sand/small stone beaches 50 meters to the left and right side of the apartment where we went swimming each day. We really enjoyed our stay at the apartment and on Salamina. The first two weeks we didn't have a car, which was no problem at all. The bus system on Salamina is great. Just don't forget to buy your return tickets at the port (or the small kiosks in the city) as the bus drivers don't sell them. The last week of our vacation we rented a car together with another family which was staying in the apartment next to us. We did a couple of day trips to the mainland (Athens and Korinth are definitively a must to see!) and also explored the island of Salamina. Especially the southern part (e.g Euripides Cave and some really REALLY nice beaches) is worth a visit! We can definitively recommend this apartment!
Evaggelos nous a vraiment bien accueilli malgré notre arrivée tardive vers 1h30 du matin... Il nous a tout de suite permis de faire notre premier ravitaillement en prévoyant le transfert de l'aéroport à son logement. Coin paisible et tranquille à l'écart du tumulte permet de se ressourcer en profitant du voisinage très sympas et de la terrasse délicieuse à n'importe qu'elle heure de la journée ... Au pied de l'eau et aux alentours à moins de 2 km à pied, multiples criques de baignades, la baie est splendide avec une vue 180 du logement. Le fait d'être sur une ile au large du Pirée est très reposant, la navette en bateau pour rejoindre Athènes est très pratique ... La famille de Evaggelos est dispo sans souci pour tout souci de vie. Et encore plein de choses à découvrir ...